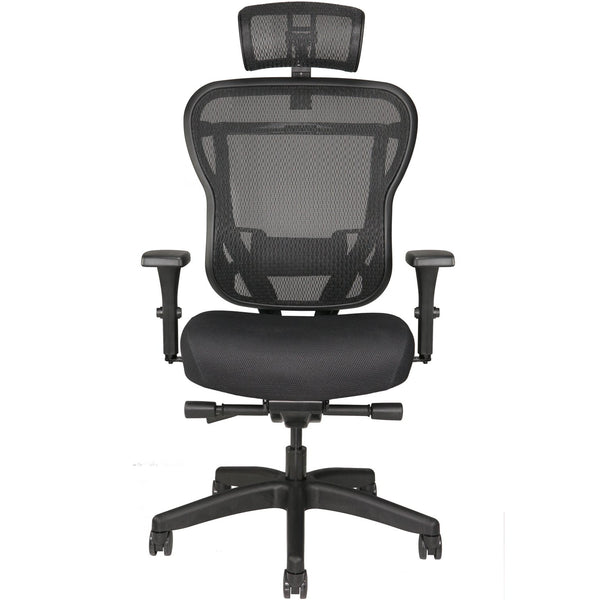 The Aloria Fabric Series office chair by Oak Hollow Furniture comes fully loaded with adjustable features, ergonomic support, and comfort. It is designed for long hours of use in a workplace or home-office setting. This model of the Aloria Series comes in a super comfortable high performance Fabric seat, and a mesh backrest.
High Performance Fabric

 

seat cushion, made with high density molded foam.
4-Way Adjustable armrests

 

allowing you to move the armrests up/down, forwards/backwards, and in/out
Seat Depth Adjustment

 

allows you to move the seat bottom in and out to assist users of different leg heights.
4-Way Synchro Tilt Lock

 

allows you to lean the chair backwards and lock it into 4 different places, or leave unlocked for a free floating tilt
Adjustable Lumbar support

 

which enables you to get the right amount of support for your backside
Seat Height Adjustment

 

to ensure the chair can adapt to users of different heights as well as tables of different heights!
Detachable Adjustable Headrest ensures your neck and head are properly supported over periods of long use!
Peace of Mind

 

with the Oak Hollow Furniture lifetime warranty on components and 5 year warranty on the leather & foam.

Quick Specs:
Material: High Performance Fabric Seat, Mesh Backrest, Mesh Headrest
Series: Aloria Series
Recommended Weight Limit: 300 Lbs.
Seat Width: 21.5"
Seat Depth: 20-22.25"
Seat Height From Floor: 16.9-21.6"
Back Width: 21"
Back Height: 23.5"
Additional Features: Synchro Tilt with Multi-Position Lock, Tilt Tension Control, Seat Slider, Adjustable Lumbar Support, Multifunctional Armrests
Returns Policy
We offer a 30-day return policy for our customers on all Oak Hollow Furniture branded products. If you do not like your Oak Hollow Furniture product for any reason within 30 days, you can send it back for a full refund, provided you ship it back in the original box it came in.
Shipping
Orders ship via FedEx Ground with a tracking number. Most shipments go out within 1 business day of purchasing. Expected transit time is 3-5 business days but may be longer during busy periods.
It would be top tier with just a couple tweaks.
6'7" 255#'s. The only chair that I have had that is tall enough. However; it feels like the chair wants to dump you out. The armrests don't stay in place. Fabric seat not very cushy. It is really well built, hoping the air shock lasts longer than most. When putting it together everything lined up. Will need a wrench or socket to tighten 3 large bolts that attached the back to the seat - this speaks to the build quality.
Very good chair, poor customer service
I'm 6'4" 250lbs and a chair is a perfect fit for me. The best part is the seat which is thick and soft. You can comfortably sit on it for many hours. The only problem I have is very poor customer service. My chair has a significantly scratched armrest. I have emailed the shop twice with photos, I have also tried contact them via the contact form, no response.
Using this chair for 1.5 years - LOVE IT
I've been using this chair for over a year so far, and I love it. It's the single most comfortable office chair I've ever had. I have a chronic illness that causes pain while working, and an ergonomic chair is essential, and this meets every need I have. It's well built, has had no issues so far after daily use. I took a risk ordering from a new company and I'm glad I did. This is miles above cheap office chairs with the comfort and durability of more expensive chairs.
I'm a 5'7, 150 lb female who finds this chair the right size for my body. My only complaint is that the armrests don't come in close enough to the chair for my wingspan, so if you have shorter arms it might be an issue.
Solid chair
I'm 6'4'' 240 lbs so needed a tall sturdy chair - this one fits the bill. I ordered the regular size (not tall). Assembled the chair and then discovered a second/taller piston in the box - didn't need it. Chair is tall enough and not a squeek after months of all day use. Seat is very comfortable as well.