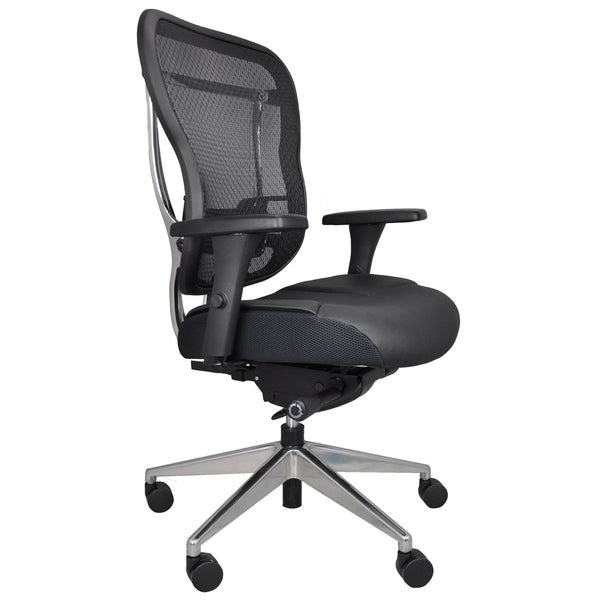 The Aloria Series leather office chair by Oak Hollow Furniture comes fully loaded with several adjustable & ergonomic features, all in a super comfortable chair. It is designed for long hours of use in a workplace or home-office setting. This model of the Aloria Series features a soft and supple leather seat, available in red, gray, or black.

Features:
Genuine Cowhide Leather seat cushion, made with high density molded foam.
4-Way Adjustable armrests allowing you to move the armrests up/down, forwards/backwards, and in/out
Seat Depth Adjustment allows you to move the seat bottom in and out to assist users of different leg heights.
4-Way Synchro Tilt Lock allows you to lean the chair backwards and lock it into 4 different places, or leave unlocked for a free floating tilt
Adjustable Lumbar support which enables you to get the right amount of support for your backside
Seat Height Adjustment to ensure the chair can adapt to users of different heights as well as tables of different heights!
Peace of Mind with the Oak Hollow Furniture lifetime warranty on components and 5 year warranty on the leather & foam.

Quick Specs:
Material: Genuine Leather Seat with Mesh Backrest
Series: Aloria Series
Recommended Weight Limit: 300 Lbs.
Seat Width: 21.5"
Seat Depth: 20-22.25"
Seat Height From Floor: 16.9-21.6"
Back Width: 21"
Back Height: 23.5"
Additional Features: Synchro Tilt with Multi-Position Lock, Tilt Tension Control, Seat Slider, Adjustable Lumbar Support, Multifunctional Armrests, Aluminum Package
Returns Policy
We offer a 30-day return policy for our customers on all Oak Hollow Furniture branded products. If you do not like your Oak Hollow Furniture product for any reason within 30 days, you can send it back for a full refund, provided you ship it back in the original box it came in.
Shipping
Orders ship via FedEx Ground with a tracking number. Most shipments go out within 1 business day of purchasing. Expected transit time is 3-5 business days but may be longer during busy periods.
Terrible Customer Service
I purchased the admittedly expensive chair in part due to the warranty that was included with the product. Oak Hollow has ignored repeated requests from me when my chair backing broke less than 2 months after purchase. The chair is 2-3 stars at best, but this company is not worth your business if this is how they handle their customers.
Not Great
This is definitely a well made chair, and it feels very sturdy. However, I am disappointed in the overall comfort of it, after using it for a few months now. I find my hips in particular being sore and aching even before the completion of a full 8hr work day. The seat depth does not accommodate my legs unfortunately, which is hugely disappointing because this was made for taller individuals.
Additionally, this chair came with both the standard and tall cylinder. I mistakenly installed the standard cylinder, which has been ok. However, the annoying part is that proved to be a permanent fixture. It is impossible to remove the chair from the base to change that cylinder out. So what's the point?? Customer service at "Buzz Seating" told me to turn the chair over and smash it with a mallet to release it.. that's unacceptable for a chair at this price point. Customer service at Oak Hollow did not respond to my email inquiries.
Overall I'm disappointed and would not recommend. I decided to pull the trigger on a pricier chair, and it's failed my expectations greatly. Customer service is unhelpful. So I'm not sure how to even resolve my matter..
I am 6'6" 235lbs, 36in inseam for reference.
Comfortable, Sturdy, but...
I purchased the Alora office chair 18 months ago and all in all, this is a great chair. I am 6'6" tall, weigh 300 pounds, and the chair fits me well. The headrest, however, is useless. It sits way too far back on the chair and requires contortionist-like skills to even touch it with the back of my head. I had to add a small pillow to the headrest and even with an additional 4" of padding, it's uncomfortable to rest my head on it. I love the functionality of the chair; after 18 months, everything is working like new. If it weren't for the headrest, this would be a 5-star review.
Love this chair!
I am 5' 11 and have a fairly high desk. I had no idea what a difference the right desk could make. This chair was easy for my husband and I to put together and it is so incredibly comfortable. It provides great support and I live the way it can tilt back gently without me feeling like it is tipping too far. Great quality and super comfortable seat. Highly recommend!!
High quality comfy chair great for tall people
Leather is very comfy. Best chair ive ever had as someone 6'3". Highly recommend.