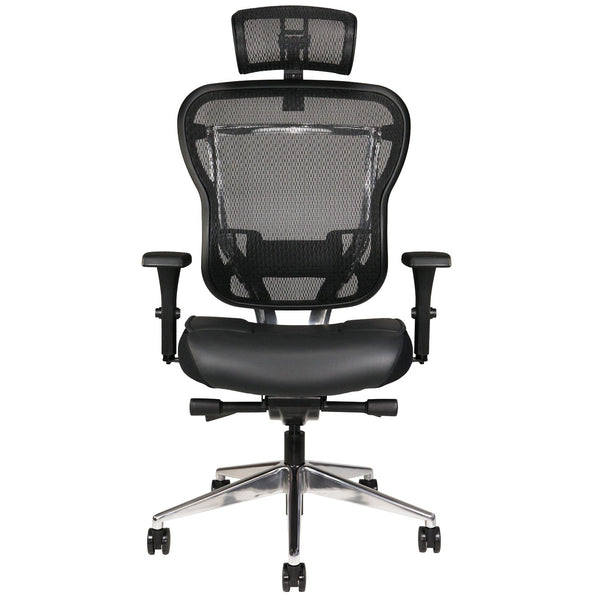 The Aloria Series leather office chair by Oak Hollow Furniture comes fully loaded with several adjustable & ergonomic features, all in a super comfortable chair. It is designed for long hours of use in a workplace or home-office setting. This model of the Aloria Series features a soft and supple leather seat, available in red, gray, or black.

Features:
Genuine Cowhide Leather

 

seat cushion, made with high density molded foam.
4-Way Adjustable armrests

 

allowing you to move the armrests up/down, forwards/backwards, and in/out
Seat Depth Adjustment

 

allows you to move the seat bottom in and out to assist users of different leg heights.
4-Way Synchro Tilt Lock

 

allows you to lean the chair backwards and lock it into 4 different places, or leave unlocked for a free floating tilt
Adjustable Lumbar support

 

which enables you to get the right amount of support for your backside
Seat Height Adjustment

 

to ensure the chair can adapt to users of different heights as well as tables of different heights!
Detachable Adjustable Headrest ensures your neck and head are properly supported over periods of long use!
Peace of Mind

 

with the Oak Hollow Furniture lifetime warranty on components and 5 year warranty on the leather & foam.

Quick Specs:
Material: Genuine Leather Seat with Mesh Backrest
Series: Aloria Series
Recommended Weight Limit: 300 Lbs.
Seat Width: 21.5"
Seat Depth: 20-22.25"
Seat Height From Floor: Varies by cylinder choice. Range of 18"-25" available.
Back Width: 21"
Back Height: 23.5"
Additional Features: Synchro Tilt with Multi-Position Lock, Tilt Tension Control, Seat Slider, Adjustable Lumbar Support, Multifunctional Armrests, Aluminum Package
Returns Policy
We offer a 30-day return policy for our customers on all Oak Hollow Furniture branded products. If you do not like your Oak Hollow Furniture product for any reason within 30 days, you can send it back for a full refund, provided you ship it back in the original box it came in.
Shipping
Orders ship via FedEx Ground with a tracking number. Most shipments go out within 1 business day of purchasing. Expected transit time is 3-5 business days but may be longer during busy periods.
The default recline resistance screws up everything
This seems to be a good chair for big/tall people which is the reason i ordered it and it is of pretty good quality overall but the recline is just so bad. The default setting has just high resistance that staying upright feels uncomfortable after more than 10 mins and trying to recline back is so hard. Setting recline to the next setting is useless as it almost feels like I'm always sitting at an angle…while the chair seems fine, just this one thing has screwed the overall experience, would not buy again.
Great chair!
Oak Hollow has great customer service and answered questions promptly when I had questions regarding the chair. I've used it for about a week now and I have to say, it is definitely worth the money. I am 6'2 so I appreciate how adjustable the chair is - it makes it very comfortable and after sitting in it for 8 hours a day, I had zero back pain.
Must have for tall individuals.
This chair is amazing. I absolutely love how high the seat can be raised! I am tall, and maximum seat height has been the biggest issue while shopping for other office furniture. With this chair, I can place my feet completely flat on the floor, with the proper seat support under my thighs so I don't have to bend my knees. It is such a relief compared to previous chairs. I can now put more energy into actually working instead of sitting in pain caused by a bad resting posture and ergonomics.
I can't say enough good things about this chair. I will definitely recommend it to anyone else looking for a tall office chair. While I was weighing the pros and cons of spending this much money on an office chair, the biggest pro influencing my final decision to purchase it was the seat's maximum height. I can't find any other non-drafting office chairs that lift this high. That feature alone has the most value and worth out of this purchase. I hope that helps you make a decision.
Shipping was also another unexpected pleasure. The chair arrived so quickly after payment cleared. I was extremely impressed with the entire shipping and handling time.
Good for tall women
I'm 5'11'' and finding an office chair that fits me has been a challenge. This is 90% of the way there — the deeper seat is a huge plus — but I wish that it had the ability to set the tilt in a neutral position. The base tilt level feels like I'm leaning slightly forward, and the next best feels like I'm laying back. The rest of the features are great, and it's well constructed and was easy to put together.
Quality chair, reasonable price, got it quick, easy to assemble
I am 6'3" and this chair is big enough to give me head support, which was the primary reason for getting this chair. The price was competitive. The right arm squeaks a little, but that is my only complaint. It was a bonus to not have to buy through Amazon. I got the chair directly and got it just as quickly, at the same price.