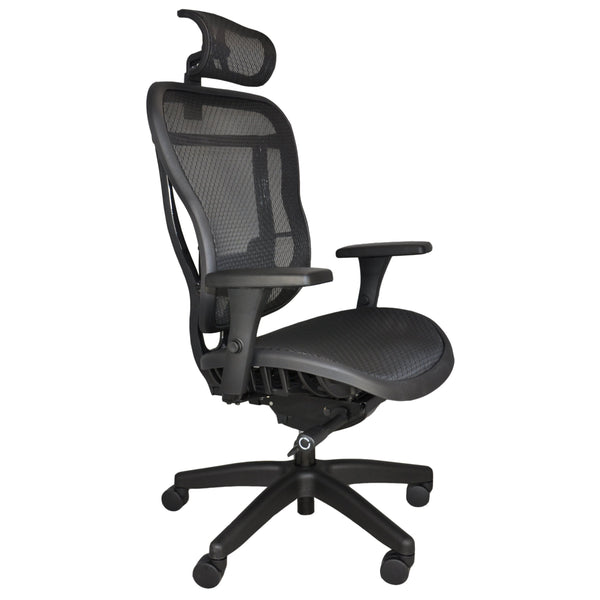 The Aloria Mesh Series office chair by Oak Hollow Furniture comes fully loaded with adjustable features, ergonomic support, and comfort. It is designed for long hours of use in a workplace or home-office setting. This model of the Aloria Series comes in an all mesh material, and is available in gray or black.
Breathable Mesh seat cushion which allows for maximum air flow
4-Way Adjustable armrests

 

allowing you to move the armrests up/down, forwards/backwards, and in/out
Seat Depth Adjustment

 

allows you to move the seat bottom in and out to assist users of different leg heights.
4-Way Synchro Tilt Lock

 

allows you to lean the chair backwards and lock it into 4 different places, or leave unlocked for a free floating tilt
Adjustable Lumbar support

 

which enables you to get the right amount of support for your backside
Seat Height Adjustment

 

to ensure the chair can adapt to users of different heights as well as tables of different heights!
Detachable Adjustable Headrest ensures your neck and head are properly supported over periods of long use!
Peace of Mind

 

with the Oak Hollow Furniture lifetime warranty on components and 5 year warranty on the leather & foam.
Quick Specs:
Material: Mesh Seat, Mesh Backrest, Mesh Headrest
Series: Aloria Series
Recommended Weight Limit: 300 Lbs.
Seat Width: 21.5"
Seat Depth: 20-22.25"
Seat Height From Floor: 16.9-21.6"
Back Width: 21"
Back Height: 23.5"
Additional Features: Synchro Tilt with Multi-Position Lock, Tilt Tension Control, Seat Slider, Adjustable Lumbar Support, Multifunctional Armrests
Returns Policy
We offer a 30-day return policy for our customers on all Oak Hollow Furniture branded products. If you do not like your Oak Hollow Furniture product for any reason within 30 days, you can send it back for a full refund, provided you ship it back in the original box it came in.
Shipping
Orders ship via FedEx Ground with a tracking number. Most shipments go out within 1 business day of purchasing. Expected transit time is 3-5 business days but may be longer during busy periods.
Better than steelcase
This is the best chair for all day sitting I have owned. I have owned a top of the line Steelcase and a $4,000 Lifeform chair, and this is more comfortable than both. Customer service is great, too. I broke the headrest in transport and it was easy to replace.
Chair is great. Customer service NON-EXISTENT.
The chair is all I hoped it would be. Comfortable, supportive and high enough for a good ergonomic position.
I tried contacting customer service twice for a simple but important assembly question. They never responded to either.
A on the chair. F on customer service.
Good quality, but with a few issues for tall folks
I'm 6' 6" and bought this chair after doing extensive research within this price range.
After about a month of use I'm generally happy with the chair's quality and adjustability, but am disappointed by a few idiosyncrasies that particularly impact tall people:
- The seat depth isn't sufficient for a tall user
- The optional headrest literally rests at the base of my neck even at its most extended position and pushes my entire head forward unnaturally. I removed it (a waste of money as it now resides in storage) and my posture has improved. Frankly, if the headrest wasn't removable I would've returned the chair.
Also the recline function is rather stiff and requires more force than it probably should.
These issues probably wouldn't be significant for a shorter person.
Great quality chair, but not for very tall people (6'4"+)
Seat height was perfect with the 'tall' cylinder, but seat depth was lacking. I ended up giving the chair to my 5'6" wife and she loves it. Very high quality build and materials, but if you are exceptionally tall look elsewhere.
Love This Chair!
For the money, this is a great chair. I'm 6'4" and was looking for a chair that would fit me. The mesh supports and breaths, the chair has good lumbar support, and I like the head rest. We have hard wood floors so I swapped out the casters that came with chair for roller blade casters from Amazon and they work perfect. Shipping was fast and assembly was easy. Assembly tip...use the box as a work bench; it helps to balance as you go. I do highly recommend this chair.